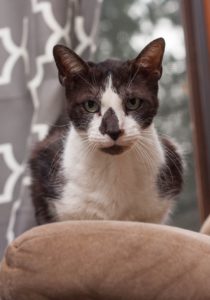 It is unfortunate that there are many cats and kittens without homes, and St. Sophia's strives to be the best in Temporary Care for Cats in Transition. The keyword is Temporary, as our goal is to have all cats and kittens in our care placed into new forever homes.
There are many different types of fostering opportunities that we have, and we have an application process so that we can make the best fit for both you, your family, and the cat(s)/kittens(s) that you will care for. Foster homes can take care of one or two adult cats (some completely adoptable and just waiting for adoption, some that have minor health issues, some that are shy and need some patience, etc), or a litter of kittens (with or without a mom).
APPLY TO FOSTER HERE
Per Illinois Dept of Agriculture Law, all foster homes must be inspected by the licensing agency (in this case, it would be St. Sophia's), so when you are approved, we will need to inspect the area where you will be keeping your foster cat(s). A foster-license is effective for 1-year after the foster-contract is signed. A new foster contract will be signed for each year you are intending to foster.
All of our fosters receive:
Litter Box
Scoop
Food (canned and dry)
Dishes
Scratching post (if desired)
Nail clippers
100% Vet Care