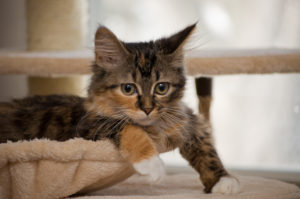 If you're looking for your new best friend, we're here to help. St. Sophia's Forgotten Felines has over 100 cats and kittens at any given time looking for forever homes. Most of our cats are housed in loving foster homes and each cat is cared for on an individual basis. Some of our cats are housed in our off-site Pet Store Adoption Centers and can be visited at any time.
Our expert Adoption Counselors are ready to help you find your perfect fit. Since our cats are worked with one-on-one, we are able to use the Meet-Your-Match system to assess each cat in our care and work with you pair up possible options. Every cat is fully vetted and all vet records are fully disclosed upon adoption.
FIRST
Check out our cat listings on our website, or visit any of our pet store locations to find a cat or kitten that you are interested in.
WHERE ARE THE CATS
St. Sophia's Forgotten Felines' shelter facility in Wheaton only houses 12-15 adult cats at any given time.
We partner with local pet stores to house our cats so that they can be visited by the public.
Seeing as most of our cats are in foster homes, adoptions are either scheduled in advance for during the week (evening appointments), or held at our adoption events on weekends.
If there's a specific cat that you're interested in, please call, text, or email us so that we can let you know where the cat is. If a cat is in one of our store locations, you can visit it at any time during normal store operating hours. If the cat is in a foster home, we will need at least 24 hours notice to arrange for a meeting (most often at our shelter in Wheaton).
We do not house our kittens in pet stores or at our shelter — they are too little to be in with the big cats, and often drive the big kitties crazy with all their playful antics. Our kittens are brought out on the weekends for our adoption events, or can be seen by appointment.
SECOND
Fill out and submit an Adoption Application in person, or online.
Paper Applications can be given to a Store Manager, or a St. Sophia's Representative.
Applications can also be found on our website to print or submit online.
LASTLY
Sign the Adoption Contract and pay the fee
Adult Cats (6 months+) = $125
Kittens (2-5 months) = $150
Senior / Special Needs (adults) = $75
This fee includes:
Spaying/neutering
Microchipping
Vaccinations (age appropriate)
Worming & Parasite Treatment
Feline Leuk/FIV combo test
It also allows for the return – FOR ANY REASON – of any of our cats or kittens should that become necessary.